ESR Electronic Elections 2024
ESR Electronic Elections 2024
Call for proposals of candidates for the ESR 2nd Vice-President
January 11-January 24, 2024
Important information:
Entitled to vote: ESR full members in good standing
All ESR full members in good standing as of December 31, 2023 will receive an invitation to vote via e-mail from [email protected] on Thursday, January 11, 2024.   
Please make sure that your membership fee is settled by December 31, 2023 at the latest in order to be able to participate in the electronic elections and that the e-mail address indicated in the ESR MyUser Area is correct in order to receive the voting mailing. 
The management of the ESR electronic elections 2024 has been again entrusted to the online voting company Polyas, a leading service for secure online voting. For more information, please click here.
Open until October 30, 2023
A 2nd Vice-President is elected every year for a five-year period of office, holding the position of 2nd Vice-President in the first year, the position of 1st Vice-President in the second year, the position of President in the third year, the position of Chair of the Board of Directors in the fourth year and the position of Past-President in the fifth year of office. Re-election will not be possible. In accordance with the ESR Statutes, ESR full members may propose individuals for this position.
Find out more about the candidates
Núria Bargalló
Barcelona, Spain
Núria Bargalló
Candidacy for the position of ESR 2nd Vice-President
Title:
MD, PhD
Current Affiliation:
Head of Neuroradiology Section,
Center of Image Diagnosis,
Hospital Clinic, Barcelona.
Assistant Professor of Radiology
University de Barcelona, Spain.
Strategic Director of the Magnetic Resonance Image Core Facility IDIBAPS, Barcelona, Spain.
President of the Spanish Society of Neuroradiology.

Primary field of expertise:
Neuroradiology
1. My motivation and vision for ESR
I have been the Chair of the ESR Quality, Safety and Standard Committee from 2020 to 2023. I am currently the Chair of the ESR Subspecialities and Allied Science Subcommittee. I have been working with colleagues in other radiology specialties to improve the quality and visibility of our jobs. I have participated in several initiatives of the ESR with surveys and articles related to value-based radiology and the need for audits and standards in radiology. I have initiated the creation of an ESR MR Safety and Quality working group.
Being part of the Executive Committee of the ESR has furthered my understanding of the challenges about the future of radiology and the importance of the relationship with other specialties. The ECR's initiative to create bridges between different medical specialties is essential for the visibility and value of our specialty. Collaboration between radiological subspecialties is also crucial for achieving a consensus on how we should work in the near future where the lack of radiologists is already evident, and the implementation of artificial intelligence in our day-to-day practice will be a challenge and an opportunity for our profession. My positions as the current Chair of ESR Subspecialities and Allied Science Subcommittee provides me with particular insight to pursue these goals.
I envision the European Society of Radiology as a global leader, not only driving education but also innovation and excellence in our field of radiology, thereby enabling us to overcome the challenges we currently face and take advantage of the opportunities presented to us.
I propose the following key elements:
Continuous Professional Development: ESR should be at the forefront of providing opportunities for radiologists to stay up to date with the latest developments in our rapidly evolving field. This could include expanding educational resources and fostering collaboration between European institutions and global partners. I strongly believe in in the power of interdisciplinary collaboration in Continuous Professional Development (CPD) and the significant benefits it can offer to all involved and, most importantly, the patients we serve. In today's rapidly evolving world of healthcare and science, the boundaries between different disciplines are becoming increasingly blurred. What was once a strict demarcation between specialties has now transformed into a spectrum of shared knowledge, technologies, and best practices. As a result, it has become more critical than ever for us to work hand in hand with other scientific specialties to advance our collective understanding and improve patient outcomes.
Supporting with professional matters: ESR should provide further guides on how to solve the problems associated with high workload, unjustified requests, and a shortage of radiologists, that require a multi-faceted approach involving various stakeholders, including radiologists, referring physicians, healthcare administrators, and policymakers.
Research and Innovation: The ESR should actively promote research and innovation in radiology. This includes supporting research grants, encouraging multi-center studies, and facilitating the translation of cutting-edge technology into clinical practice. ESR should play a role in networking between researchers around Europe and the world.
Patient-Centered Care: Radiologists should not be isolated from patient care. The ESR can play a pivotal role in advocating patient-centered radiology, emphasizing the importance of effective communication with patients, and providing resources for radiologists to improve the patient experience.
Mentorship and Support: The ESR should further expand its mentorship programs to nurture the next generation of radiologists. We need to ensure that young professionals have the guidance and support they need to thrive in their careers.
Sustainability in radiology is an important and growing concern. Sustainability in radiology not only contributes to reducing the environmental footprint of healthcare but can also lead to cost savings and improved patient care.
I believe that by focusing on these elements, the European Society of Radiology can continue to grow and evolve, leading the way in shaping the future of radiology in Europe and beyond. Our society can inspire excellence, foster innovation, and improve patient care. I am eager to contribute to these goals in any way I can and look forward to being a part of this exciting journey.
2. Major Leadership positions at international level
President of the Spanish Society of Neuroradiology (2020- present)
Counselor adviser of the President of ESNR (2022-present)
3. Involvement in the ESR and ECR so far
Chair of the ESR Subspecialities and Allied Sciences (2023-present)
Chair of the ESR Quality, Safety and Standard Committee (2020-23).
As Chair of the QSSC and SASC I am also member of the following:
Member of the Audit and Standard Subcommittee (2020-23)
Member of the E-health and Informatic Subcommittee (2020-23)
Member of the Ultrasound Subcommittee (2020-23)
Member of the Radiation Protection subcommittee (2020-22)
Member of the MR safety and quality WG (2023)
Member of the Patient Advisory Group (2020-present)
Member of the Value-based Radiology (2020-23)
Ex-officio Member of the Education Subcommittee (2020-present)
Ex-Officio Member of EuroSafe Imaging Steering Committee (2020-23)

4. Current & Previous Employment
2021-at present: Head of Neuroradiology at Centre de Diagnóstic per la Imatge, Hospital Clinic, Barcelona. Spain
2021-at present: Strategic Director of Magnetic Resonance Image core facility.
Institut de Recerca Biomèdica August Pi I Sunyer. IDIBAPS, Spain
2021-at present: Assistant Professor of Radiology, Universitat de Barcelona
1994-2021: Consultant in Neuroradiology, Centre de Diagnóstic per la imatge
Hospital Clínic de Barcelona, (internal professional rank: Specialist 1994-2000; Senior Specialist 2001-2005; Consultor 2005-2012, Senior consultant 2012 at present)
2011-2021: Coordinator of Magnetic Resonance Image core facility. Institut de Recerca Biomèdica August Pi I Sunyer. IDIBAPS
2010-present: Honorary Consultant, Lysholm Department of Neuroradiology, NHNN/UCLH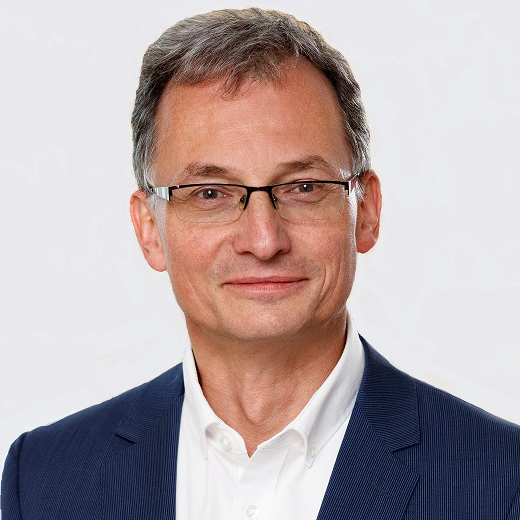 Mathias Prokop
Nijmegen, The Netherlands
Mathias Prokop
Candidacy for the position of ESR 2nd Vice-President
Title:
Prof. Dr.
Current Affiliation:
Department of Medical Imaging, Roudboudumc, Nijmegen, The Netherlands
Department of Radiology, UMC Groningen, The Netherlands
Primary fields of expertise:
Body imaging (chest, abdomen,
cardiovascular)
Screening
CT
AI
1. My motivation and vision for ESR
ESR has focused on leading radiologists into a future in which they become more visible, provide more value, engage more in multidisciplinary teams and increasingly interact with patients. I would like to continue to pursue and expand these ideas together with ESR and help further strengthen the foundations of our discipline to ensure that radiology becomes even more relevant in the decades to come.
I see substantial threats from increasing workloads, financial pressures, radiological practices being bought by investors, decreasing work satisfaction, and the rapidly evolving role of AI that brings hope of better quality and less stress but also the threat of ultimately replacing radiologists as we know them.
During my chairmanship of the Dutch Radiological Society, we succeeded in defining a common vision for the future, in which we see radiologists moving away from mainly writing diagnostic reports towards more important tasks that will ensure that our role remains important even if AI takes over more and more of the reporting process.
I would like to use my experience in this process to build on the existing programs of ESR, refining the common vision for European radiologists so that it can become a blueprint for national initiatives. This vision should involve partnering with other diagnostic specialties to claim a more central role in multidisciplinary teams, and exploring a diagnostic gatekeeper role that ensures that unnecessary steps are eliminated from the healthcare pathway and that patient receive the most appropriate treatment. This requires direct interaction with patients but also adequate reimbursement for tasks that are new for us radiologists.
Adequate scientific proof of new workflows may be necessary to change guidelines accordingly and to ensure that health insurers and governments realize that radiology is able to avoid downstream cost and provide more cost- effective care pathways with better outcomes. I would like to see ESR stimulate European cooperation to more quickly demonstrate the effect of strategically important changes in clinically pathways.
An example is the breast cancer pathway, in which radiology can claim the full diagnostic workup: some 90% of women will not have breast cancer and do not need to see another specialist. Radiologists can provide immediate feedback to their patients, reducing their anxiety and saving time and money in the process. For those with cancer, radiologists can claim the full staging workup together with pathology and genetics, making sure that all information is available once the patients are presented in the multidisciplinary team meeting to define further treatment. New screening techniques, such as breast MRI or dual energy mammography hold the potential to eliminate lymph node metastases from the 2nd screening round onward, opening up opportunities for minimally invasive treatment by radiologists. Other examples are prostate cancer, lung nodules and chronic chest pain, to name but a few. Making sure that these radiology-driven workflows are more cost-effective, potentially also with a better outcome will open the way for reimbursement and a stronger role of future radiologists.
Since we are the medical specialty most involved with AI, we should use this fact to claim a central role as data specialists. However, most radiologists are insufficiently trained to do so and are overwhelmed by clinical work. Gaining back time to become more active outside the pure reporting business is therefore a priority for our specialty. AI can be a tool to make us more efficient, although current systems are insufficiently able to do so. I see a role for ESR to provide guidance for radiology departments and AI companies alike to help us gain time to claim new roles.
In the past decades, we have focused on training organ radiologists that are able to be adequate partners in multidisciplinary teams. We have been very successful in these aspects but have neglected the technical aspects of our field. Training of residents and radiologists alike will be needed to create more radiologists that fulfil the role as data specialists but also can guide industry in new technical developments, where at the moment, industry-push and not radiology-pull is prevalent. ESR has the means to play a pivotal role in this process.
My motivation for applying for this position is to help strengthen our field and to make sure that working in radiology stays rewarding now and in the future.


2. Major Leadership positions at international level
2020 Advisor on Imaging for COVID-19, World Health Organization (WHO)
2019-2022 Chairman, Strategic Committee, ESTI
2019-2020 Advisor on Lung Screening, Federal Radiation Protection Agency (BfS), Munich, Germany
2018-2022 Yound Leadership Club, IS3R
2018-2020 Member, Selection Committee, A.R. Margulis Award, RSNA
2014-2019 Advisor on Individual Health Assessment, WHO
2001-2005 Consultant to the 'International Atomic Energy Agency' IAEA
2001 Education evaluation committee, American Roentgen Ray Society, ARRS


3. Involvement in the ESR and ECR so far
Since 2020 ESR Quality, Safety & Standards Committee, ESR
2019 Congress Organization Committee, ESR
2017 Josef Lissner Honorary Lecture
2016 ESOR Excellence in Teaching Award
2009-2014 Radiation Protection Subcommittee, ESR
2007-08 Organizer, Categorical Cource Multislice CT, ECR
2003-2004 Scientific Committee member 'Chest', ECR
2000-2001 Scientific Committee member 'Computer applications', ECR
2000 Organizer, Multislice CT Workshop, ECR


4. Current & Previous Employment
Since 2022 Chairman, Department of Radiology, University Medical Center Groningen
Since 2020 Professor and Chairman, Department of Medical imaging (Radiology, Nuclear Medicine and Anatomy), Radboudumc
2014-2019 Professor and Chairman, Dept. of Radiology & Nuclear Medicine, Radboudumc
2009-2014 Professor and Chairman, Dept. of Radiology, Radboud University Medical Centre (Radboudumc), Nijmegen
2004-2009 Professor, General Radiology, University Medical Center Utrecht
2002-2004 UHD (Associate Professor), University Medical Center Utrecht
1998-2002 Associate Professor of Radiology, University of Vienna Medical School
1992-98 Staff position, Dept. of Diagnostic Radiology, Hanover Medical School, Head of CT and ultrasound
Responsibilities and commitment
ESR Board of Directors
managing organ of the society
to access all detailed information, please consult the ESR Statutes

2nd Vice-President
Deputy Chairperson of the PPC of the following working year and responsible for providing a strategic review of the Society's objectives
Time Commitment: approx. 10-15h a week

1st Vice-President
Chairperson of the PPC of the following working year and responsible for the preparation of the scientific programme and general organisation of the ECR of the following working year.
Time Commitment: approx. 15-20h a week
President
responsible for the European Congress of Radiology (ECR) and shall chair the Programme Planning Committee of the current working year
responsible for representing ESR at other societies' congresses and official events with the aim to promote and present the society and the upcoming congress to the outside world
Time Commitment: approx. 25h a week
Chair of the ESR Board of Directors
represents the Society in all matters, chairs all Board of Directors (meets at least 5 times a year), Executive Council (meets 4 times a year), bilateral meetings as well as the ESR General Assembly
Time Commitment: approx. 25h a week
Past President
supports the Chairperson of the Board of Directors in all matters, transfers his/her knowledge and ensures continuity
Time Commitment: approx. 10h a week
Requirements and eligibility criteria
Nominees should reside in Europe, be professionally active and recognised internationally as European leaders in science and management in the field of radiology. He/she should support ESR's vision and be dedicated to its strategy. He/she should have made a major contribution to the Society's affairs. The candidate should have proven leadership competence, have diplomatic skills and ability to work across sectors and disciplines at international level.
Further eligibility criteria:
ESR full radiologist member
Professionally active radiologist with high professional and academic reputation (not to be retired from his/her academic position throughout the 5-year term as member of the ESR Board of Directors)
Proven academic track record in science
Proven capability to create consensus
Proven senior leadership competence in science and management and ability to define long term strategies.
Extensive proven collaborative engagement with and participation in ESR activities over a substantial period of time
Substantial contribution to and involvement in national and/or international societies
Professional and personal integrity (no conflicts of interest affecting responsibilities in the ESR)
Preferably good geo-political fit with other ESR officers (no overrepresentation from same country)
Good working knowledge of English (as all ESR communication is done in English)
Official procedure and timeline
Proposals must be accompanied by: 
a written confirmation by the proposed person that he/she would be willing to serve and to allocate the time required as per above details to fulfill the duties as member of the ESR Board of Directors for the whole period of office.
A letter of motivation and biography in English of the proposed person incl. a head and shoulders picture (max. 1000 words; following the format of the template, for publication on the ESR website, if nominated))
A document for the attention of the ESR Board of Directors describing the candidate's vision for the Society (max 2000 words)

The call for proposals is open until Monday, October 30, 2023. Only submissions including all requested documents will be considered for nomination. 
***
The ESR Executive Council has the final responsibility of nominating the candidates for the office of the 2nd Vice-President.  The candidates will be announced on the ESR website on December 11, 2023, at the latest. The election will take place via electronic voting between January 11-24, 2024, and the term of office of the newly elected 2nd Vice-President is planned to start on March 4, 2024.  
Proposals should be sent via e-mail to Ms. Bettina Leimberger, ESR Office, Committee and Board Affairs Department, [email protected]